General Coordinator of Component
Dr. Cleverson Rannieri dos Santos (MPEG) (e-mail: crsantos@museu-goeldi.br)
The objective of the "Support for the Modernization of Biological Collections" component of the PPBio is to ensure that the biological collections of the participating institutions are properly qualified, in addition to carrying out activities that improve the working capacity of the collections curator.
The main objectives of the PPBio Collections area is to: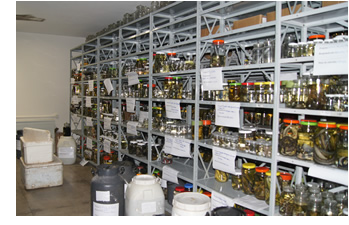 1. Identify and diagnose scientific, educational and/or reference collections within the Regional Delivery Departments;
2. Improve the collection infrastructure;
3. Promote the creation and subsequent disclosure of knowledge associated with collections;
4. Invest in training of human resources in curator, biological systematics and bio-informatics areas;
5. Provide access conditions to collection data through on-line database systems.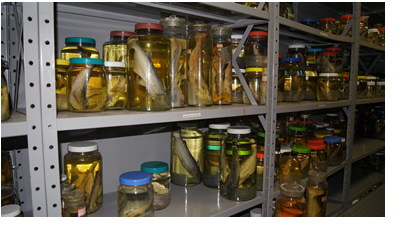 Another important objective of this area is to ensure that all biological specimens and data associated with these specimens, collected under the auspices of the PPBio Inventories component, are made available to the scientific community through proper storage and subsequent incorporation into other collections, fostering the growth of taxonomic, bio-geographical and ecological information.
The collections modernization strategy is centered on the implementation of Biogeoinformatics Department (BGID) within the participating organizations. These departments are responsible for the maintenance of a computational interface that aggregates data from various different collections. 
Types of biological collections
Collections supported by PPBio:
Regional Department of the State of Pará

Emílio Goeldi Museum of Pará

EMBRAPA – Pará

Herbarium Scientific Collection

Entomological Museum

 

 

 

 
Regional Department of the State of Amapá
Herbarium
Regional Department of the State of Mato Grosso

UNEMAT Regional collections

UFMT  Regional Collections

Ichthyological Collection

Vertebrate Collection

 

 
Regional Department of the State of Maranhão
UFMA  Regional collections
Ichthyological Collection